PM reportedly tells JLP Central Executive election coming 'soon, soon'
Published:

Sunday | August 9, 2020 | 12:00 AM
Prime Minister Andrew Holness has reportedly told members of the Jamaica Labour Party (JLP's) Central Executive that an election announcement will be made very soon.
This has further heightened speculation that the announcement could be made on Tuesday when the Parliament is reconvened midway the current summer recess that was scheduled to end in September.
Holness, who is also the leader of the JLP, today met with the party's 63 prospective candidate for the next general election.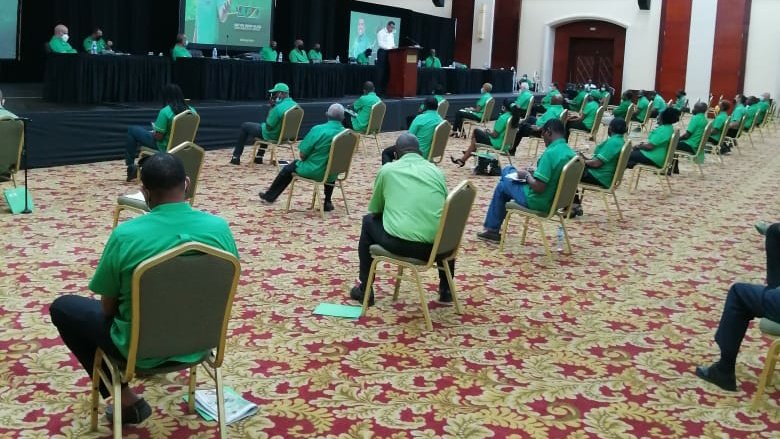 IN PHOTO: This picture taken by Delano Seiveright shows members of the
Jamaica Labour Party's Central Executive at the Montego Bay Convention seated several feet apart consistent with the Government's COVID-19 protocol. 
"The party leader indicated he will make certain announcements 'soon, soon'," JLP chairman Robert Montague told reporters at a press conference following the Central Executive meeting.
Holness did not attend the press conference.
NOW: @jlpjamaica Leader, Prime Minister Andrew Holness is at the Montego Bay Convention Centre for a meeting of the party's Central Executive. He opened his address referencing Ecclesiastes 3: "To everything there is a season, and a time to every purpose under the heaven." pic.twitter.com/wZRfdY7eib

— Jamaica Gleaner (@JamaicaGleaner) August 9, 2020
At the meeting, the Central Executive confirmed the full slate of 63 JLP constituency caretakers.
Yesterday, the People's National Party also presented its 63 candidates.
Follow The Gleaner on Twitter and Instagram @JamaicaGleaner and on Facebook @GleanerJamaica. Send us a message on WhatsApp at 1-876-499-0169 or email us @onlinefeedback@gleanerjm.com or editors@gleanerjm.com.